Councillor Alex Phillips (Green) is the youngest-ever Mayor of Brighton & Hove and a former MEP for South East England.
Q How did you get interested in politics?
A My mum was in the Labour Party. I remember helping in the run-up to the 1997 General Election – phone canvassing, stuffing leaflets and delivering them. I was about 11. I joined the Labour Party at 16 but left 18 months later over the Iraq war. Then I was politically homeless, looking for the right party. I joined the Green Party mainly for its social justice and human rights policies, but also the environmental side.
Q What do you most enjoy about being a councillor?
A I got addicted to solving people's casework – it gives me immense satisfaction, because people are so grateful. There is nowhere else you can change people's lives so quickly – just getting their bins moved affects their quality of life in such a positive way.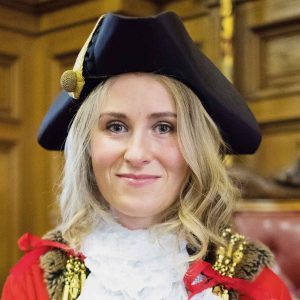 Q What are your proudest achievements?
A Where I was elected first, they needed a new primary school. When the Greens got into administration a couple of years later, that was one of the things we were able to do. We brought in the living wage for all council employees and contractors, and that had never been done before.
Q How do we get a more diverse range of people to stand as councillors?
A The political parties must take responsibility. I got written into our constitution that at least half of council candidates had to be women – so in a three-member ward you would have two women. People call it 'positive discrimination' but 'assertive action' is a better way of describing it.
Q You seem in favour of 'no overall control' on councils?
A People are not well served when you have councils that are 90 per cent one party. In Brighton & Hove, we have three parties of decent size, and a committee system, not cabinet. We need to reach consensus because there is no overall control. Collaboration, getting consensus and working together – that's how it should be. It must be quite frustrating for officers, but overall it's much better having the make-up of a council like ours.
Q Why did you stand as an MEP?
A In my early 20s, I worked for Caroline Lucas when she was an MEP, and I thought 'this is the place for politicians, particularly green ones'. You can write laws that affect 28 countries and millions of people. When we have global challenges like child poverty, inequality and climate change, they are best fought on a global scale. It's a great loss and very sad that we have left the EU.
Q What advice would you give to new or aspiring councillors?
A When someone says you are too young or not clever enough or you are not what a politician is meant to look like, ignore that. Everyone brings their own experiences. Just because people have lived longer, doesn't mean they are better qualified. That would encourage younger, more diverse people to stand as councillors, and we certainly need them.
Author