I read recently that, in a crisis, you should "deploy an innovation team alongside the business recovery teams… to capture the novel practice".
Among all the bad news, the tragedy and statistics that coronavirus has brought, those of us in public services keep hearing that 'this is an opportunity to change' and 'we can't go back'.
As a progressive councillor, I can't stand back and watch the rapid adaptation of the business of local government without understanding what's happening, what it's like to be a part of it, and how the pandemic has created immediate transformation driven by urgent need.
To gain a deep understanding of what's happening, we need insights. Inspired by reading from Chris Bolton from Audit Wales Good Practice Exchange, there is a school of thought that says: "In a crisis, you should always deploy an innovation team alongside the business recovery teams…to capture the novel practice".
There is also a more traditional approach of 'retrospective coherence', where we sit down at the end of a crisis and discuss what we learnt. The danger here is that we construct a narrative that is formed after the event, not during. Therefore, as we navigate through the most turbulent and unsettling conditions of our lifetimes, we should look to capture what's happening in as close to real time as we can.
There's much emerging thinking about the future, but I like a quadrant that I saw recently from Social Finance (www.socialfinance.org.uk/), which outlines four scenarios – 'innovation against the odds', 'civic renewal', 'central command and control', and 'race back to normal'.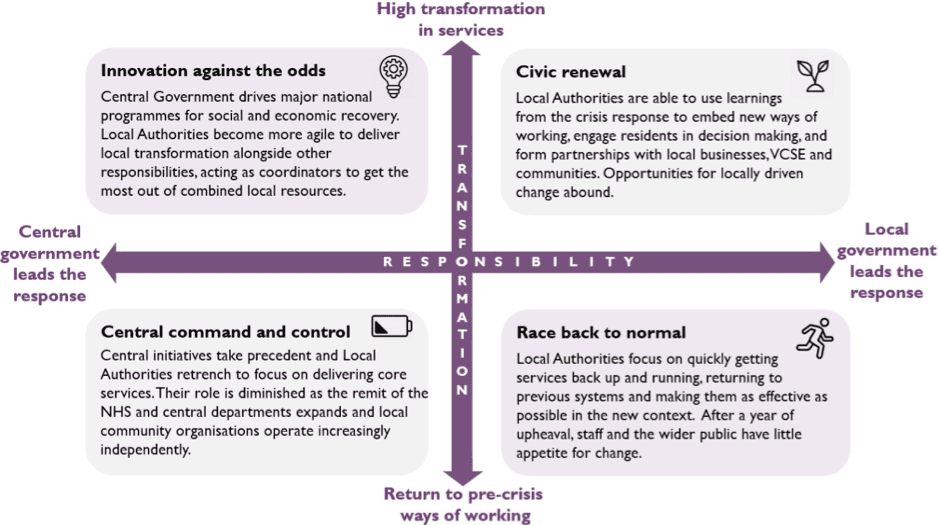 Other quadrants and scenarios are available, but I like the prospect of the 'civic renewal' destination, which speaks of high transformation and local government leadership.
While we are still in the early days of dealing with the crisis, and I've broadly heard people being positive about a new normal, we should be aware that there may be a very real and strong desire to 'race back to normal'.
This is not a criticism, as there has been such disruption to life that many will want to feel settled again. But the time to act for the future is now, and one of the ways to do that is to embed the learnings from the crisis response.
Of course, theory without action is useless, so over the last few weeks myself and an officer colleague have conducted 25 'learning through crisis' conversations with a range of staff. Loosely based around a handful of simple questions that are both descriptive and reflective, it's been fascinating to hear their experiences of service delivery during the coronavirus pandemic.
The questions posed were 'what have you done differently?', 'what have you learnt?', 'what's gone wrong?' and 'what's gone well?', and as the interviews progressed, we asked about working from home and more about the future too.
'What have you done differently?' is the starting question. For some, this has been complete redeployment, and for others it's been more of a change in working practice. The obvious and most common answer has been to work from home, coupled with the exponential rise in the use of video-conferencing technology and digitising systems and processes rapidly to support remote working.
This rapid transition wasn't without its technological hiccups in the early days of the lockdown, but has settled, and some members of staff told me they'd invested in equipment and furniture to set-up dedicated home offices to work in. That suggests an 'in it for the long-term' approach.
In discussion with redeployed staff, I found that one had moved into registrars having been trained via distance and e-learning, and within a few weeks was registering her first fatalities. It was a sobering moment to hear that story.
"We have dispelled the myth that home working isn't suitable. It is"
Another member of staff has overseen the delivery of one million pieces of personal protective equipment (PPE) with a team of two and a transit van: incredible work. Others had moved into our newly established community hub from leisure, housing, or commissioning. One had filled in a skills matrix and was redeployed an hour later, another has shown incredible leadership skills to establish a cross-sector hub from the ground up, and another had moved from being a climbing instructor to managing a team of call handlers in a hybrid physical / remote setting.
In hearing these individual stories, I was inspired by our staff's leadership qualities and attitudes.
The 'learning' through crisis is diverse: working from home works for the majority, but not all, especially where there might just be the corner of a kitchen table to work at with children doing their distance learning simultaneously.
Most people want to work from home more often in the future citing productivity being up, and the commute and hunt for a car-parking space a welcome removal from working life. In fairness, those who have been agile/flexible/home working for some time knew this anyway, but now we are (potentially) talking about the masses.
The redeployed staff spoke about their increased appreciation of the diversity of local government services, and how they felt empowered, enthused and even excited to be part of something so important and critical to public safety. Those in the community hub especially talked about the power of community, the public willingness to help, and how if you let go a little and do with, not to, you can achieve far greater collaboration. And of course, working at pace.
I was struck by the example of delivering PPE, where there was no manual or guidebook, and the reflection from the member of staff was that if we had to write the manual, we'd still be figuring out the content. The implication? Just get on with it and get the job done. One officer summed it up as "adversity brings empowerment".
For the 'what went well' and 'what went wrong', generally there had been some early issues with technology, and also it struck me that the processes that fell over the most were those where more traditional practices were applied.
Over the last couple of years, I've repeatedly heard that video conferencing is no substitute for the face-to-face meeting, yet the virtual team meetings occurring during the crisis were reported to be more productive and had an increased focus on staff wellbeing.
There had been some tensions between people, process and partners, but overall the feeling was that the majority were working as a team, including very positive reports for working with partners and communities.
From the rich insights of just a few staff members working through crisis, there are some themes that I'd like to explore further as we move to recovery.
Technology: we were in a good place at Pembrokeshire through our investment in 'smarter working' and were able to mobilise staff incredibly quickly to work from home. In doing so, we have dispelled the myth once and for all that home working isn't suitable. It is. The tools are there, they work, and productivity is high. It just needs a balance and another of those cultural shifts that digital/tech is really all about.
Breaking down the silos: the 21st Century Public Servant work feels more relevant than ever. The pandemic has fast-tracked 21st century public servants across the UK, where councils have embraced the generic skills of their workforces with a very clear purpose: to protect life.
We need to capitalise on that by now rejecting silo working, embracing fluidity and collaborating to achieve our goals. The 21st Century Public Servant is about employee engagement to empower and facilitate our workforce to deliver fantastic services, and be very proud of their achievements. It's about being a municipal entrepreneur, acting on behalf of residents and having broader and softer skills. This is what I am seeing in action and it's hugely encouraging.
Working with communities: when I took responsibility for the transformation programme, the 'relationship' with staff and communities of Pembrokeshire was something I wanted to focus on. We've seen such an incredible community response, and crucially we have supported that response, so we need to build on that co-design and co-production ethos.
One member of staff spoke of nurturing those community relationships and the choice of word is spot on. There's also a lot of public goodwill towards the council, which we also need to nurture carefully. Our brand equity is high, but that could be undone very easily. As one member of staff said: "It's given the council the opportunity to shine."
So what now?
The culture change work at Pembrokeshire sets course for an organisation that has learning, purpose and results as its centre. If you missed the hint, the key word right now is 'learning'. To move us on, an 'organisational learning' cell has been set up as part of the emergency response which will see a far wider approach than the handful of interviews we've carried out so far.
This will build on the work of some departments who have already surveyed their teams to make sure they are being supported and help us capture and respond to 'learning through crisis'.
My role, as a cabinet member allows me to contribute to the setting of the strategic agenda and work programme for the portfolio, to consult with stakeholders, and to make sure that the portfolio's forward work programme is kept up to date and accurate.
Learning must be a critical component of our strategic agenda, and these insights must inform our recovery.
Coronavirus is the most disruptive event of our lifetime. It has changed the way that we work and it will take years for our society to recover, but councils across the UK have led an incredible response.
We'll be needed for the long-haul, so I encourage all councils, councillors and officers to have more 'learning through crisis' conversations now, pause and reflect, capture that novel practice, and help make the changes that we want to see stick.
Author