Becoming a councillor can be overwhelming for anyone. For Andrew Hensman, it was further complicated by the fact that he is autistic.
"At first it was daunting but very quickly the council's Governance and Members' Team came around and said: 'OK, we have got this – I will call it a – problem. What do we want to do about it?' I was an unknown to them."
He says the team and fellow councillors at Braintree District Council have been very supportive, and take the time to explain things to him. "My colleagues who have been on the council for years – one or two I would call mother or father of the council – I go to them to run things by them. I say, 'this doesn't make sense', and they will say, 'we have seen that before' or 'this is what happened last time'. And I will say, 'what about doing it this way?' and they may say 'let's give it a go'."
"This is my chance to make a difference and prove people with differences can do it
Council Leader Cllr Graham Butland has been "extremely supportive", says Cllr Hensman. "Graham will take time out to say 'this has happened, you shouldn't do it this way, you should do it that way', or 'this is going to happen, and why'. He takes that little extra time to tell me personally."
Cllr Butland is clear that "people of all abilities and disabilities should have the opportunity to engage in public life".
"That's what we've tried to do with Andrew," he says. "It's been a learning process for us – we've had the courses but it's not quite the same as when you work closely with members."
One of the council's democratic services officers had experience of a family member with autism, which helped, and adjustments have included allowing Cllr Hensman to bring his assistant to certain events, says Cllr Butland.
"Andrew has played a full part – he is very keen to participate and he makes very thoughtful contributions. He is diligent, very conscientious, and really has represented his constituents very well. I very much hope he retains his seat next year. He's not my most high-maintenance councillor!"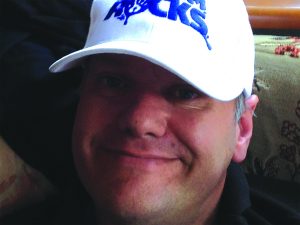 While council colleagues tell Cllr Hensman he is now "part of the furniture", it has not been easy. His assistant, Karen Brown, says: "When Andrew was first elected, I think his colleagues found it quite daunting. It's taken a long time to adjust to Andrew's personality and his differences. People were frightened of him and what he was going to do.
"I call myself an interpreter; I help him interpret the world in terms he can understand. The practical side is understanding what people are saying… what they might be saying to your face and what they might actually be saying might be two different things and he doesn't get that at all."
Cllr Hensman says: "For me, it's having the coping strategies – and specifically the boundaries – so I know what I can do and what I can't do, and won't go over it. I'm not scared of taking on any issue… but, if it's something I'm not sure of, I have learned to ask."
Cllr Hensman was asked to stand by a friend who was already on the council, and he plans to stand again in 2019. "I thought, 'here is my chance to make a difference and prove people with differences can do it'. The ballot box doesn't discriminate," he says.
As well as his work as a district councillor, Cllr Hensman is a carer, serves on the board of Carers UK, has worked with Essex County Council for many years on various autism work streams and was encouraged to set up the Essex branch of the National Autistic Society.
He isn't afraid of getting involved, taking part in many voluntary roles within the community. It is only others' perception of autism that restricts their acceptance of him, or  willingness to work with him, he says. With the right support, he has proved that anyone on the autism spectrum can achieve.
One of the things Cllr Hensman is proudest of, as a councillor, is helping a local resident who lost his single-person council tax discount because his sister, who needed 24-hour care, moved into his spare room.
Cllr Hensman considered that if the siblings' roles were reversed, carer's disregard would be applied. He put this to the relevant council service and it agreed.
"We turned it on its head; it's thinking differently, thinking laterally, and that's what I can bring to the table," he says.
Cllr Hensman was also responsible for resolving a fault with the Braintree Town Hall clock. He recalls attending a Remembrance Day event at which the presiding military officer realised the clock was out of sync and went with his own watch to mark a minute's silence at 11am. But the silence was ruined by the clock chiming in the middle, and he was upset for the families who were remembering relatives.
"I have a different brain, and I look at things differently. I will ask challenging questions. I will say 'why can't we do that?'.
"I speak my mind… just because I belong to a party doesn't mean I will follow that colour. Even if residents in my ward didn't vote for me, I still have to represent them."
Cllr Hensman is keen to get in touch with any other elected members with autism (email cllr.ahensman@braintree.gov.uk).
"I really look forward to making other local authorities more autism-friendly: for their staff, colleagues and customers. Employers may then start to wake up to the talent they are missing out on," he says.
Of his experience as a councillor, he adds: "It's just been so diverse. It's just a privilege to serve the community and make a difference.
"People go on about 'the council this' or 'the council that', but if you think you can do it better, you should stand."
What is autism?
Autism is a lifelong developmental disability that affects how people perceive the world and interact with others, according to the National Autistic Society. All autistic people share certain difficulties, but being autistic will affect them in different ways.
Autistic people have difficulties interpreting both verbal and non-verbal language such as gestures or tone of voice. Many have a very literal understanding of language, and think people always mean exactly what they say.
They often have difficulty 'reading' other people, recognising or understanding others' feelings and intentions, and expressing their own emotions. This can make it hard for them to navigate the social world.
All people on the autism spectrum learn and develop. With the right sort of support, all can be helped to live a more fulfilling life of their own choosing. See www.autism.org.uk
Autism self-assessment 2018
Councils are being asked by the Association of Directors of Adult Social Services (ADASS) and the Department of Health and Social Care to undertake an autism self-assessment.
The self-assessment is important as it helps areas review how they are doing in relation to the Government's Autism Strategy and map out their own priorities.
The deadline for submissions is 10 December, and the information submitted will be collated, analysed and published by Public Health England.
The LGA's lead member for autism is Cllr Jackie Meldrum, who can be contacted at jmeldrum@lambeth.gov.uk. For guidance on the Adult Autism Strategy, please see www.gov.uk/government/publications/adult-autism-strategy-statutory-guidance
Author