For the fifth time in six years, the local elections are being overshadowed by national political events – and Brexit has the potential to deliver a shock to the campaign right up until polling day.
But to those in local government, they are important contests in their own right at the busiest point in the electoral cycle. With 8,400 seats in 248 councils falling vacant, about three-quarters of all electors in England have the opportunity to vote.
Beneath the surface, though, these elections also betoken the current reorganisation of local government by stealth. Five new councils have inaugural elections after the abolition of, or merger between, their predecessors – and there are no elections at all in the districts within two counties, Buckinghamshire and Northamptonshire, pending similar change.
Elsewhere, nearly a dozen councils have switched from election by thirds to all-out contests and do not have elections this year; and no fewer than 51 authorities are implementing often quite radical reviews of their ward boundaries and councillor numbers.
"The number of councillors in England has shrunk by more than 600 compared with four years ago – and further reductions are on the way
As a result, the total number of councillors in England has shrunk by more than 600, to a little more than 17,100, compared with four years ago – and further reductions are on the way.
Politically, these elections largely reprise those held on General Election day 2015, when the Conservatives made more than 500 gains in tandem with David Cameron forming a majority government. Labour and the Liberal Democrats both lost ground, with Cameron's former junior coalition partners being particularly hard hit, losing nearly four in 10 of all the seats they were defending.
The 2015 elections also had an impact at the LGA, with Labour no longer being the largest party after just one year. This time, the very extent of the contests means that a strong Labour performance could again put the LGA's political balance at stake.
Recent local by-elections certainly suggest that the Conservatives have fallen back from their highs of four years ago, though they are not experiencing the kind of wipeout common for governing parties in recent decades. They are fielding candidates for 19 out of every 20 vacancies, but their main problem may be persuading their natural voters to turn out at all, given the party's factional turmoil. They could well lose most of their 2015 gains and, with them, control of councils such as Broxtowe, High Peak and South Gloucestershire, which they took then. In Gravesham, another 2015 success, a dispute over reselections led to a breakaway Independent Conservative group being set up and left Labour as the largest party on the council – a position they are likely to retain after May's elections.
The Leave-voting parts of the West Midlands have been a happier hunting ground for the Conservatives recently, and a repeat of last year's results would see them seize control in both Dudley and Walsall.
Labour too, with a candidate in more than three-quarters of seats, are contesting a greater proportion of vacancies than in 2015. However, the party is not doing as well as an opposition should at this stage in the Parliament, registering fewer than 10 net by-election gains since the last General Election. Their average vote share is up by about 3.5 points over the same period, but they now need to make a substantial advance given that its lacklustre 2015 performance is the benchmark for these contests.
Labour should add two to the 30 out of 36 metropolitan boroughs they currently hold by winning both Calderdale and Trafford for the first time in nigh on 20 years. A simple reprise of last year's performance will be enough. Just two gains would tip Redcar & Cleveland back into the party's column and Stoke-on-Trent really should be in Labour's sights after several years of flirtation with various Independent groups.
The shire districts have always been something of an electoral desert for Labour, but victory in Carlisle (where the number of councillors drops from 52 to 39) and in Redditch (a surprise Conservative gain last year) would be a boost to the party's parliamentary hopes too. Labour's target must be to win close to 20 per cent of all district council seats, compared with 15 per cent in 2015 and 17 per cent in 2011.
The Liberal Democrats continue to languish at a near 35-year low in terms of their presence in local government. With fewer than 10 per cent of all councillors in England and just 11 councils under majority control, they struggle to make their voice heard. They have made more net gains than Labour in recent by-elections and outscored Jeremy Corbyn's party on the same measure at last May's contests too. And they are contesting more than 50 per cent of seats this year compared with 46 per cent in 2015. But it all amounts to comparatively modest fare.
They will now hope to gain overall control of Winchester by taking four wards that they won in the 2016 and 2018 contests from the Conservatives, and to deprive them of their majority in St Albans. There is also scope to become the largest party in Stockport if they can eat into Conservative territory in Hazel Grove and Marple. It may be pertinent that all three council areas voted Remain in the 2016 EU Referendum.
The Greens are the fourth-largest single party in English local government. However, they have made just four net gains and suffered a loss of vote share since the 2017 General Election. In Norwich, for example, they won four wards in 2015, but none last year. Two of their biggest tests this time will come in Brighton & Hove, where they polled a quarter of the vote four years ago, and in York (15 per cent in 2015).
UKIP, which is likely to have few if any councillors elected, does present something of an analytical puzzle. On paper, they are defending more than 150 seats from 2015, but, in reality, most of these have already been sacrificed to defections or by-election defeats. The formal record will show these as losses now though, and in places such as Tendring and Thanet that could help boost the tally of Conservative gains.
A modest uplift for Independents would also not be surprising. In the current circumstances, many electors who habitually vote in local contests might be tempted to choose someone whose essential message is 'a plague on all their houses'.
Indeed, the contests for directly elected mayors have long pointed up the fragility of party political loyalty. Ken Livingstone stood as an Independent when he became the inaugural Mayor of London in 2000, and five of the 11 mayors first chosen across England in 2002 had a similar denomination.
Sitting Independents will defend this year's mayoral elections in Copeland and Mansfield, while in Middlesbrough, the Independent who lost by just 256 votes to Labour in 2015 tries his luck again against a new Labour candidate. In Bedford, Liberal Democrat Dave Hodgson attempts to be re-elected after nearly 10 years in office in an area where his party falls short in every other type of contest. Only in Leicester, where Labour's Sir Peter Soulsby stands again, does the result look clear cut.
There is intrigue too in the contest to be the first mayor of the North of Tyne Combined Authority. Newcastle City Council and LGA Labour Group Leader Nick Forbes failed to secure his party's nomination against novice councillor Jamie Driscoll, and a well-known local businessman – John McCabe – has entered the lists as, yes, an Independent.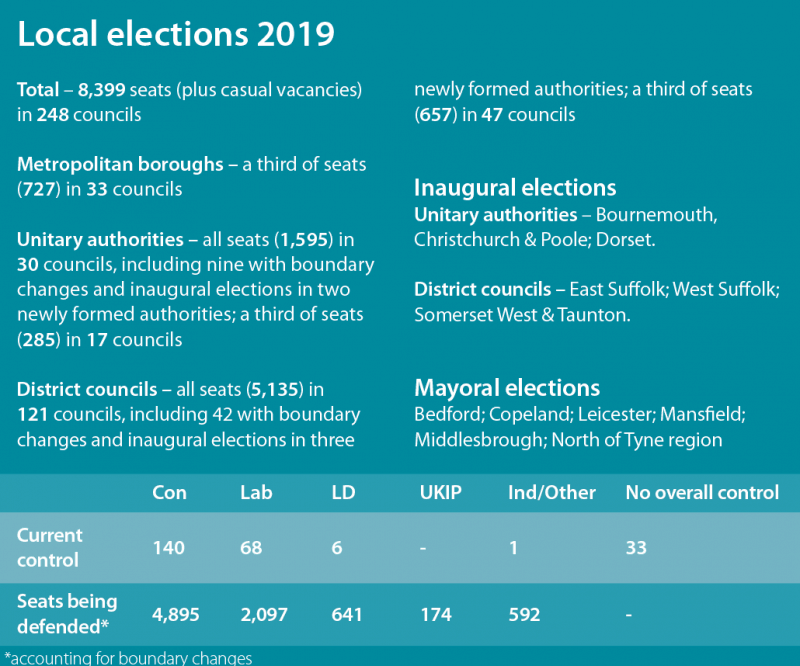 Author