Councils can help build more homes to address the housing crisis – if they are given the powers they need to do so.
It is 100 years since the Addison Act was introduced, which enabled councils to become large-scale builders of social housing.
To celebrate the anniversary, the LGA is looking at how councils built 5.5 million homes over the last century and why council building has declined over the last 20 years. We will also be looking to the future and exploring the ways councils can build many more homes again.
Council housing has been essential in helping the most vulnerable in society gain access to a home and has helped to prevent homelessness. In the 1950s, at the height of council building, local authorities built on average around 147,000 homes a year.
Today, that figure is down to 1,400 social homes a year, because of a number of challenging circumstances, while homelessness is rising. Currently, councils are housing more than 200,000 homeless people in temporary accommodation with many more people living on the streets. There are 1.2 million households on the social housing waiting list.
The country needs a renaissance in council house building to boost supply, help families struggling to meet housing costs, provide good quality homes to rent, reduce homelessness and tackle the waiting lists many councils have. Almost every council in the country is involved in building homes through many different routes (see Cardiff case study, below left), and many have ambitions to build at scale again, but much more can be done to support them.
After years of campaigning, the Government announced the removal of the housing revenue account borrowing cap last year. Scrapping it delivers a game-changing opportunity for many councils to deliver much needed homes.
We want the Government to go further, and work with councils on an ambition to build 100,000 council homes a year. This would include a call for the devolution of  Right to Buy to allow councils to set discounts and keep 100 per cent of sales receipts.
On 31 July, the LGA will be celebrating 100 years of council housing on social media. We want as many of you to get involved as possible and share what you are doing to celebrate council housing in your area. To get involved use #CouncilHousing100 on Twitter. We will be sharing your posts. To see more about our celebrations, visit www.local.gov.uk/council-housing-100
New homes in Cardiff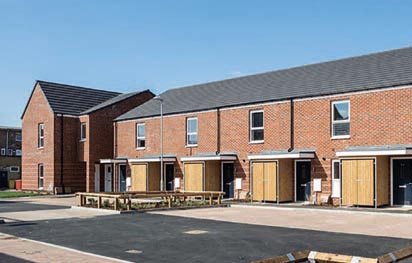 In the centenary year of the Addison Act, Cardiff Council has outlined an ambitious £280 million plan to deliver 2,000 new council homes. It is also prioritising building housing for older people, to provide flexible accommodation that allows residents to live independently in their own homes for as long as possible, and to encourage older residents to downsize.
Cardiff Council has identified a number of routes for delivering new homes. These include working in partnership with developers; using open market buy-backs; working in partnership with housing associations to push developer package deals; converting council-owned buildings into homes; and using innovative approaches such as refurbishing shipping containers for temporary accommodation.
Its 'new build' programme predominantly builds new homes on council-owned brownfield sites and will help in the regeneration of already established housing estates.
Why council housing is important
Debra Thomas (pictured with her son James) has three children, one of whom is severely autistic.
The family recently moved into one of Selby District Council's new social homes in Byram. The development is part of a long-term £22 million investment in new affordable homes across the area by the council.
"This has been absolutely life changing for us as a family," she said.
"We've been living in the village for nearly 20 years so to get a four-bedroom house in the local area was amazing.
"It's especially important for our youngest son, James. Because of his autism, James really needs support when dealing with change. Moving to a new home so close by has meant that we've been able to remain really settled."