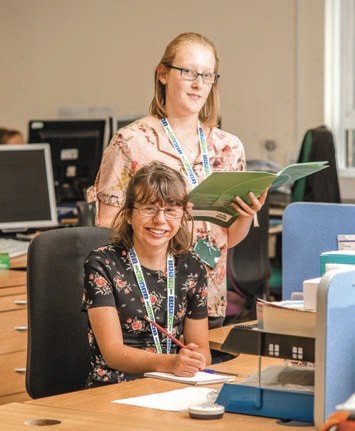 It's been a success, with half of the apprentices securing permanent or fixed-term contracts with the council, in roles ranging  from trainee licensing officer to trainee horticultural mechanic.
But we wanted to take our apprenticeship programme a step further.
Three years ago, we forged a partnership with Rugby's Brooke School, which caters for young people with a variety of needs, including physical, sensory, emotional and communication disorders.
The council has placed equality and diversity at the heart of the organisation, achieving 'excellent' status under the Equality Framework for Local Government for the  first time in 2014 and again in 2017, when it was reassessed.
Working with Brooke School's Making My Own Way Project, we have provided internships to 10 students, offering opportunities that go way beyond the traditional work experience placement.
It's a team effort, with teachers from the school offering support to the student in the workplace, while each intern also has a council mentor, who ensures the student develops the confidence and skills to make a real contribution.
And it's delivered results, with one of the interns successfully transferring to the council's apprenticeship programme and completing an information technology qualification.
The success of the Brooke School partnership led us to broaden the scope of our apprenticeship programme and we now offer apprenticeships to young people with physical or learning disabilities, and young people on the autism spectrum.
It requires a high level of commitment from both the apprentice and council staff, with a wide range of our teams offering placements during the apprenticeship to ensure they learn a variety of skills and develop confidence in  the workplace.
But this commitment brings rewards, both in terms of the diversification of our workforce and the opportunities we can offer to young people in our borough.